Bitcoin price crashed last Friday as Silvergate Capital delayed filling a 10-K report 
No bounce followed 
For bulls to have a case, Bitcoin needs to hold support and break two resistance levels
Last Friday, Bitcoin price lost $1,400 on news that it delayed filling a 10-K report. The stock crashed over 30% and triggered massive selling in the cryptocurrency market.
Inevitably, Bitcoin price was hit, as doubts over Silvergate's future scared investors in the cryptocurrency market. Investors, however, are used to Bitcoin's volatility. For example, the price is down -47.5% in the last 12 months and up 32.74% YTD.
It means that the reaction to Silvergate's announcement might be just part of the coin's volatility. But the worrying fact is that the price did not bounce back as bulls would have wanted.
Curiously, Bitcoin led the stock market losses. It used to be the other way around – Bitcoin following the S&P 500 index's price action, but now the roles changed.
While Bitcoin price dropped last Friday, the stock market continued its recent rally. The two diverged.
Only yesterday, stocks crashed too, as the Federal Reserve's Chair, Jerome Powell, testified in front of the Senate on the monetary policy. He said that recent data favors a higher terminal rate; thus, more rate hikes are in the pipeline. As a result, stocks crashed, and the US dollar rallied.
When should bulls start buying Bitcoin?
Bitcoin may have rallied in 2023, but the recent price action is bearish. The market dropped after a contracting triangle acted as a reversal pattern in late February.
Next, a consolidation started, which resembles a bearish flag pattern. Silvergate's stock price crash completed the pattern, as Bitcoin price reacted.
Will the neckline of an inverse head and shoulders pattern offer support?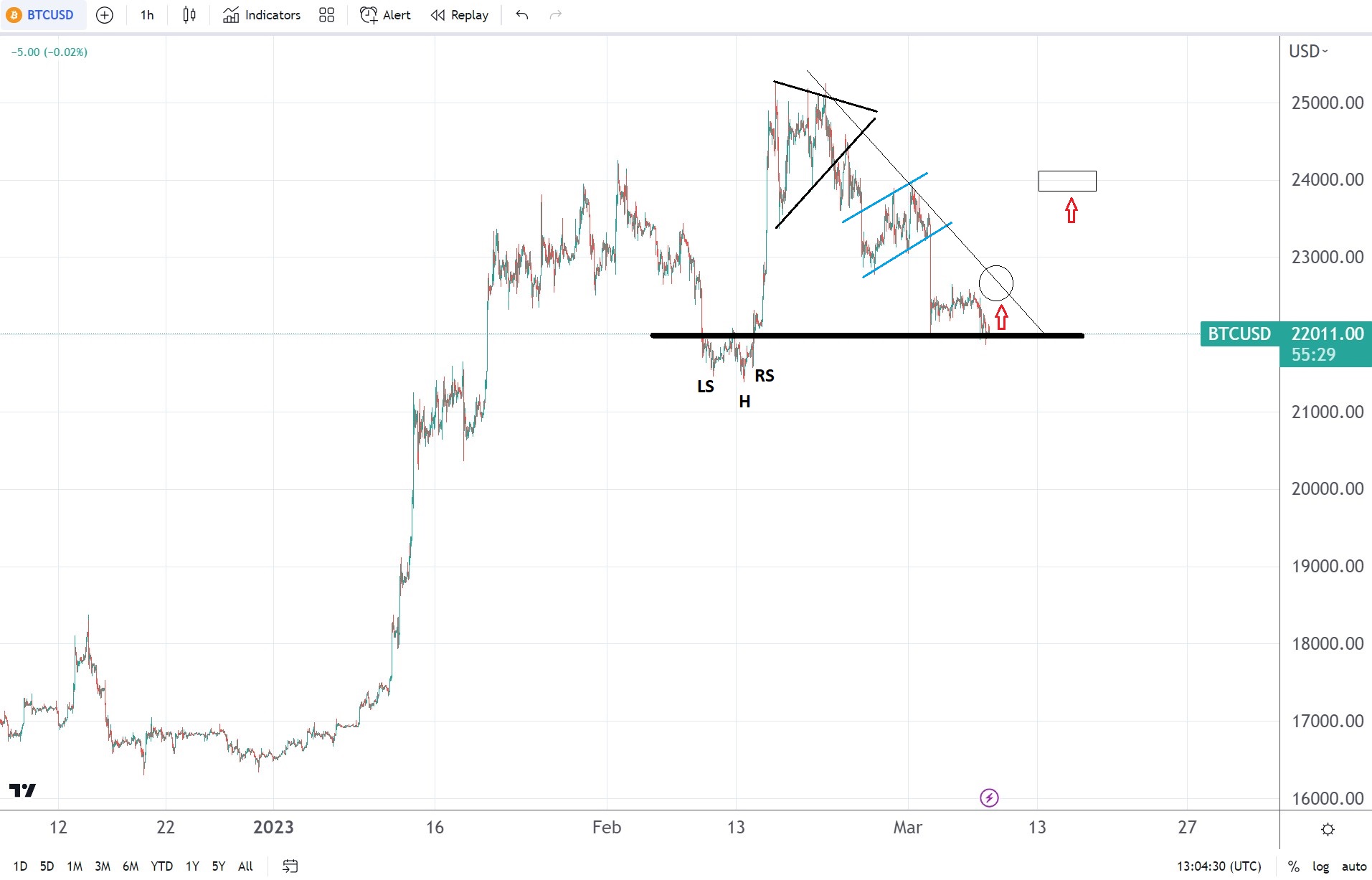 If it does, then Bitcoin is still not out of the woods, as momentarily, bears are in control. For a bullish setup, Bitcoin price needs to do two things.
First, to break above the bearish trendline. But only that is not enough.
Second, it must climb above the previous lower high in the $24k area. Can it do that?
The only way to do so is for risk sentiment in financial markets to turn on. If that is the case, all eyes should be on the stock market as a bounce there would support Bitcoin's rally.
On the flip side, a drop below the head of the inversed head and shoulders pattern would open the gates for further losses.
24 total views, 2 views today