TAMA, the native token behind the memecoin sensation Tamadoge, successfully launched on ByBit and was welcomed by traders with huge trading volume. The token is now up by a whopping 160% over the past 30 days as traders rushed to purchase the TAMA token before the launch on the tier-1 exchange, allowing the token to reach as high as $0.032 in the process.
With the latest addition to ByBit, Tamadoge is now expanding its ecosystem after being listed on a wide range of tier-1 exchanges and launching its play-to-earn addictive Tamadoge arcade. With the ecosystem growing rapidly, many analysts believe that TAMA will continue to skyrocket over the coming months after the incredible 30-day performance.
Tamadoge Continues Exchange Listing Rampage
🎉TAMADOGE IS NOW LISTED ON BYBIT🎉

This is a huge level up for the Tamadoge community and we're pawsitively thrilled! $TAMA will be available on the @Bybit_Official exchange from TODAY 💥 pic.twitter.com/qyQcPyrDY1

— TAMADOGE (@Tamadogecoin) April 27, 2023
Tamadoge continues its exchange listing rampage after being added to ByBit this week. The token launched on the exchange on April 27th and was welcomed by the traders on the platform with an incredibly high trading volume. As of writing, the token started to aggressively climb on its listing and witnessed over $1 million in trading volume in the first hour of trading;
With TAMA now listed on ByBit, the memecoin sensation is officially listed on five top-tier exchanges, including OKX, BitMart, Gate.io, MEXC Global, and, of course, ByBit.
TAMA was listed on ByBit spot markets under the Innovation Zone, as it's a relatively new coin that only launched in 2022. The presale for Tamadoge was truly exceptional after it managed to raise over $15 million in its presale. Following its presale, the token went on to launch on OKX on its first day, providing a significant 18x return for early-stage presale investors – that's 1800% returns.
Unfortunately, TAMA became vulnerable to the overall 2022 crypto bear market and started to head lower in the year's final months. Nevertheless, the recent addition to ByBit, a tier-1 exchange, has revived the token price. In addition, the recent release of the Tamadoge Arcade, the play-to-earn platform behind the project, has caused exceptional ecosystem growth. As a result, analysts expect TAMA to continue on its bullish path in the coming months.
What is Tamadoge?
Tamadoge is a memecoin that provides value to its holders through its play-to-earn ecosystem. The project offers a wide variety of fun and addictive games that anybody can enjoy playing, regardless of their interest in the crypto industry. The best part about it is that everybody can also earn free cryptos if they're good at the games.
The project allows users to breed, train, and play its arcade games with little NFT points, allowing them to earn points to climb a leaderboard in each game. The players that top the leaderboard each month are entitled to claim their winnings from the monthly prize pool, providing them with rewards for gaming.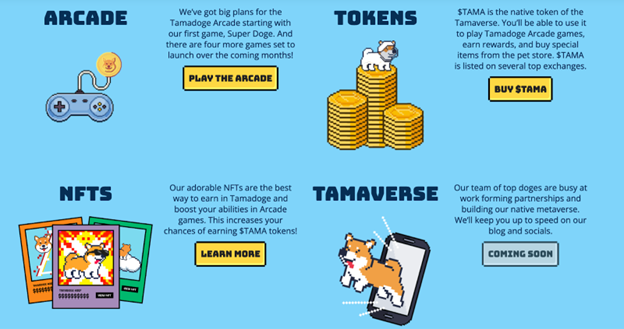 It doesn't stop there; Tamadoge has an entire ecosystem to provide additional utility to its holders. For example, all users that purchased Tamadoge NFT pets will be able to use them as avatars in the upcoming Tamaverse. Furthermore, Tamadoge also intends to take the metaverse one step further by releasing an augmented reality application, allowing NFT holders to play and interact with their pets as if they were in the same room.
That's without mentioning the Tamadoge Arcade, which recently opened and has attracted over 22,000 gamers.
Tamadoge Arcade Officially Opens With Over 22,000 Users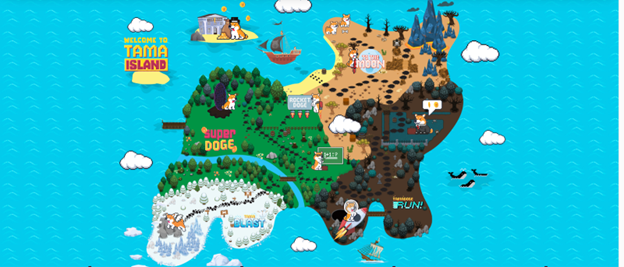 Alongside the recent exchange listing, Tamadoge also recently opened its Tamadoge Arcade, providing a range of fun play-to-earn arcade games for its user base. The Tamadoge Arcade is where the team will continuously launch new arcade games to provide something that everybody can enjoy. So far, they have released the following five games;
Tamadoge Run – Run through a spooky map and avoid traps while collecting coins.
Rocket Doge – Navigate your Doge through a course on his jetpack and collect coins.
To the Moon – Help your doggo reach the moon on his pogo stick.
Super Doge – Defeat the evil SECKnights and bring peace to Tama Isle.
Tama Blast – An ice-hokey arcade game to score points and win coins.
The games are similar to old-school arcade games you would have played growing up, but with a new twist that integrates NFT pets – making them incredibly addictive. In addition, those that use their NFT pets in the arcade games have a better chance of boosting their scores, allowing them to rank higher in the leaderboard to earn more rewards.
The exciting thing about the Tamadoge Arcade is that it's generating some serious traction, surprising the entire community. So far, the team has stated that almost 22,000 gamers have played the game in the short time that it's been opened. The interesting thing is that users have to purchase credits to play the play-to-earn version of the game – just like you would have to buy tokens in an actual arcade. Users can purchase these credits using their $TAMA tokens, providing additional value for the ecosystem.
Woah, these numbers are on fire! 🔥

As of last week, the #TamaArcade has almost 22,000 gamers playing games every month. And look at all those credits… Players love our games!

We have more stats coming your way soon because we're taking #Tamadogecoin to the moon! 🚀

Until… pic.twitter.com/DHd6DXvXHl

— TAMADOGE (@Tamadogecoin) April 13, 2023
The 22,000 gamers that are actively playing in the Tamadoge Arcade have so far spent a total of 84,000 credits, with each person purchasing around 275 credits to start playing in the play-to-earn ecosystem.
Buy TAMA Today on ByBit
With the ecosystem rapidly expanding and the token price still relatively low, you have the perfect opportunity to get invested in this memecoin sensation and ride the wave higher as it continues to attract more users to its arcade. Although it's already up by well over 150%, analysts predict that the project's future returns will be much higher than today's prices.
Disclaimer: This is a paid release. The statements, views and opinions expressed in this column are solely those of the content provider and do not necessarily represent those of NewsBTC. NewsBTC does not guarantee the accuracy or timeliness of information available in such content. Do your research and invest at your own risk.